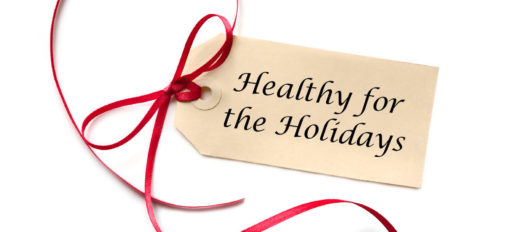 The New Year is often a good time to think about making positive changes in our lives. Get a head start and follow these tips for a happy, healthy Holiday Season.
1. Keep Active: If you have a fitness regime, try to stick to it. Even just a daily walk will help you feel better. Not only will walking help you work off extra calories, but it's great for your mood and getting rid of the claustrophobic feeling from spending too much time indoors.
2. Don't Stress: The holiday season is busy enough without putting additional pressure on ourselves; accept help from others or lend a hand to someone else.
3. Sleep More: Many of us get fatigued during the holidays because we don't prioritize sleep. Try to get real sleep every night and avoid over-committing yourself.
4. Relax, But Don't Let Your Guard Down: Resist temptation! There are just too many opportunities to over eat. Be conscious and try not to overload your plate.
5. Drink Responsibly: There is no way to disguise the fact that more than moderate amounts of alcohol can overload the body with toxins, deplete us of important nutrients, suppress the immune system (making us vulnerable to picking up colds or flu), disrupt sleep and upset digestion…the list goes on. If you are going to be drinking during the holidays, drink responsibly and make sure you stay hydrated.
6. Keep Breakfast Healthy: You'll need plenty of energy in reserve so start your day with a healthy breakfast that won't spike your blood sugar levels and send you into an energy slump or knock your mood off balance. Use breakfast as an opportunity to eat plenty of fruit and top up with immune-boosting antioxidants.
7. Seek Out Vitamin & Mineral-Rich Foods: Many of the commonly consumed festive treats are nutrient-depleting, so try to include some foods rich in potassium, magnesium, zinc and iron, which are vital for keeping energy levels high. Good sources are dried fruits, raw nuts, fish, turkey, eggs and sprouts.
8. Switch Off The TV: The holiday  Season is a great time to catch up and have quality time with family. Opt for going for a walk, playing cards or board games – do something that involves quality interaction.
9. It's Okay To Say "NO": We tend to enjoy those things we feel obligated to do. Do you really need to say yes to every invite or attend all the Holiday parties? Slow down, take in your surroundings, observe and listen. Have some "me" time, rest and relax.
10. Resolutions and Goals: These do work for some people, but for others they can be yet another source of pressure. Try to see the New Year as an opportunity for re-evaluating where you are in life and where you're headed. If you're setting resolutions, don't be too ambitious.
Happy Holidays!