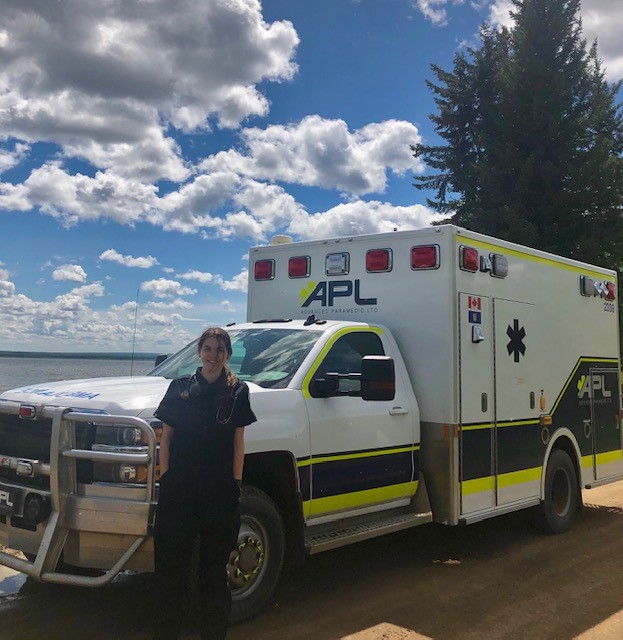 Ever since she was sixteen and working on her lifeguarding certification, Pendra Barrett knew she wanted to become a paramedic. "The life-saving courses I was taking led me to want to learn more, and I felt that EMS was a perfect setting. It's prehospital, fast-paced, and every day would be different. That was very intriguing to me."
Three years later, in 2018, Pendra became a Primary Care Paramedic (PCP), working with the APL team out of Cadotte Lake.
"I live in Edmonton, so it's a bit of a journey to get up there,
but really worth it for the community. There are four full-timers working at Cadotte, doing one or two weeks on and off. As a casual worker, I pick up a week or so, help out with extras hours, whatever's needed. We work in pairs; one drives the ambulance, the other takes the call. The next call that comes in, we swap. I'm lucky in Cadotte because we are all in a similar young age range, making for a good team dynamic."
Over the past two years, Pendra has found the work to be quite different in some ways than what she anticipated. "In school you don't realize the professional element of the job, doing reports, working with dispatch and other emergency services because the
emphasis is on working with patients. School prepares you very well for what you get thrown at you, but it is definitely a reality check when you actually get out there."
Eventually, Pendra might decide to go further in her career, become an Advanced Care Paramedic (ACP), but right now she wants to continue building up experience and confidence before taking that next step.
When asked what it's like to save lives when she's only 21 years old, Pendra's reply is one that most paramedics would give at any age. "We don't necessarily think of ourselves as 'saving lives', and sometimes we don't get to find out the end results of patients. We go into each call simply to help somebody in need, to help them through what can be the most traumatic or painful time of their life. It's quite rewarding in that way."