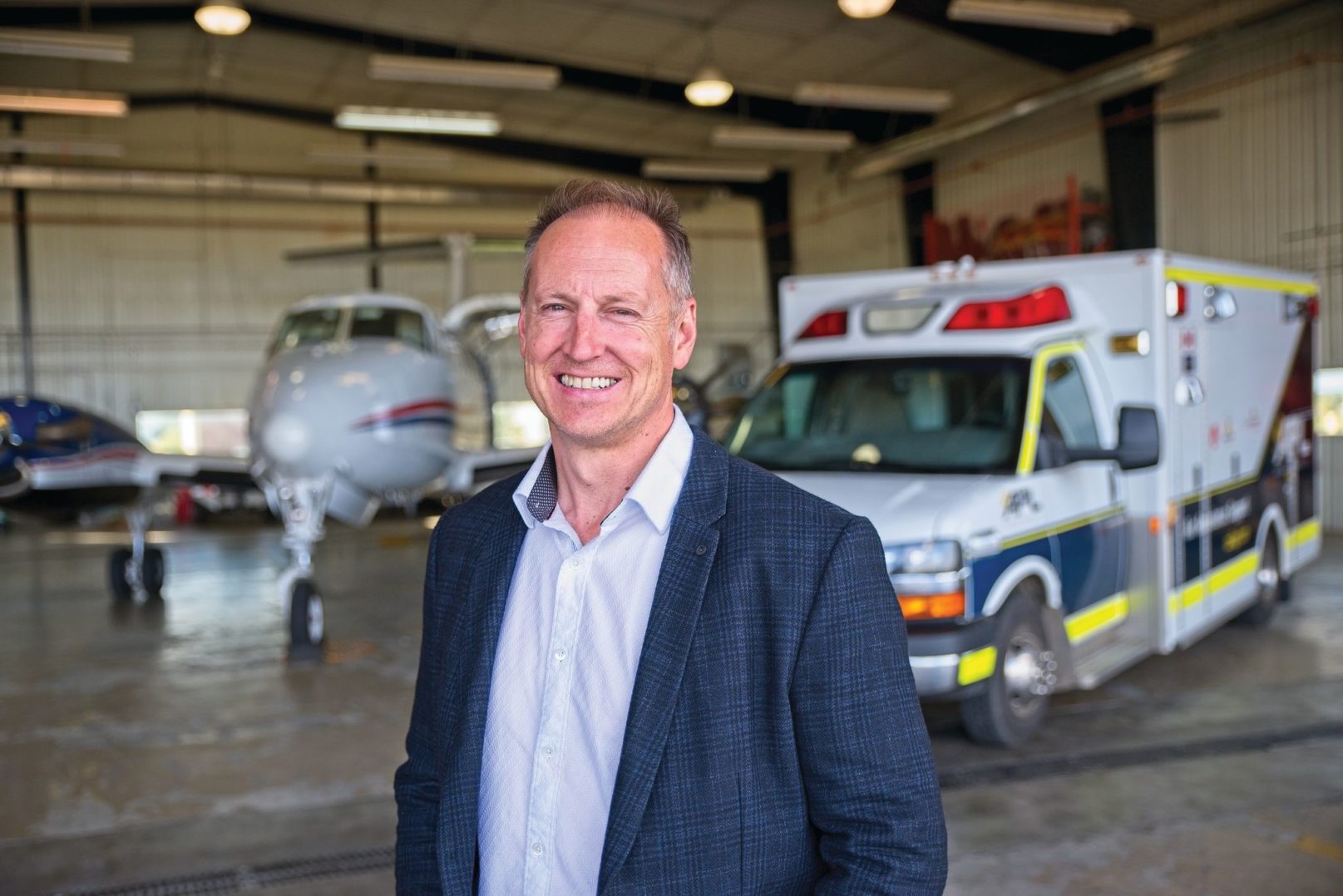 Twenty years ago, Stephen Woodburn took his knowledge and skills as a paramedic and put them to work with his natural entrepreneurial drive to create Advanced Paramedic Ltd. (APL), today a thriving full-serviced organization dedicated to meeting the medical service needs of Albertans.
"I had been working with a local ambulance service for about 10 years before I decided to launch my own company," he explains. "Starting out in 2000 as an industrial ambulance company, we primarily worked on small projects in our local area in Northern Alberta for oil and gas companies, construction, pipelines, medical standby– whatever was required, we did it."
That was only the beginning for APL. Two years later, Stephen bid on and was awarded the air ambulance contract for the Peace River base in the province of Alberta. "I had to very quickly learn how
to meet the responsibilities I'd committed myself to! Since then we gained experience and expanded on that contract until today we staff five air ambulance aircraft in Alberta with base locations in High level, Fort Vermillion, Grande Prairie and two in Peace River."
As any successful businessperson knows, diversity is key to the strength of an organization. Over the years, APL expanded into larger contracts within the oil and gas industry, while also providing ground ambulance work based in Cadotte Lake and Little Buffalo for surrounding areas.
"We also do clinical work for Health Canada, providing paramedics to very remote First Nations communities in the high northern part of Alberta that have limited access to doctors. In communities such as Fox Lake, J'Dor Prairie and Garden River, a number of APL paramedics are stationed in-community, available every day of the week, commuting in on three-week rotations."
"Another area of our work is through what we call special events– rodeos, auctions, big graduation ceremonies, concerts happening all around Alberta and requiring the presence of paramedics. By focusing on ongoing occasions, such as our contract with FC Edmonton for soccer games and Century Mile for horse racing, some of our special events crews are now working almost full- time."
As well, for about five years now, APL has been supplying non- emergency medical transport by ground for people who need to be somewhere like a hospital or a health care facility and have no way to get there.
More recently, APL has expanded into COVID assessment centres, providing paramedics to Health Canada for First Nation communities throughout Alberta. Working cooperatively with registered nurses, the team does assessments, triage, COVID swab tests. Every week these special teams travel to a new group of communities to give whatever support Health Canada requests.
Stephen Woodburn, dynamic and justifiably proud CEO believes the strength and success of APL comes down to having a solid set of core values upon which all decisions are based. "From there we have developed a great team–over 100 great people to lead and manage the work we do every day."