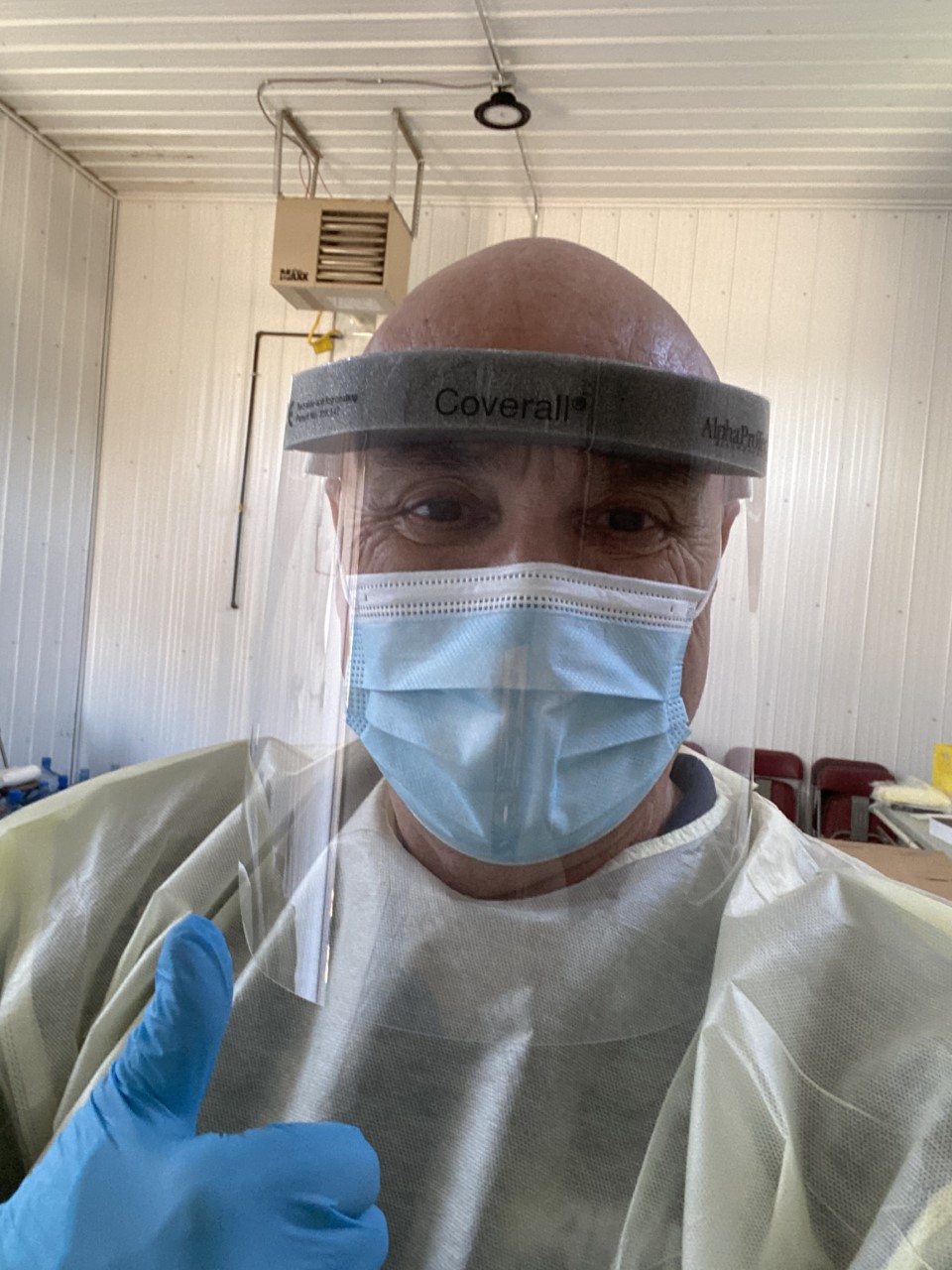 Jack Webb has worked as a paramedic in many different settings: on the streets in Edmonton, Industrial Clinics in Northern Alberta, overseas in several countries. Finally, two years ago he joined the APL Indigenous Services Team at Fox Lake Reserve, a very isolated area, relying on a barge to cross the river in summer and an airstrip that operates depending on the weather.
"If the flying conditions are poor, that can make our time with a patient very long," Jack explains. "Generally, we have three nurses, two paramedics plus the nurse-in-charge up here, looking after about 5000 people in and around the community of Fox Lake, so it can get pretty busy at times."
"When the pandemic first started, it was confusing because no one knew what to expect–not only the paramedics and nurses up here, but also the band staff and the clients. The clinic is normally packed with people; right away everything had to change to facilitate seeing our regular patients while establishing a separate room for COVID testing."
At first the team set up an isolation room in an empty heated second garage, but it was soon apparent that wasn't the answer. "Every time we saw a patient in there, we had to gown up, full PPE before going inside the building. Leaving the room meant taking everything off, then new equipment to come back in. We were going through a lot of stock, and it was very time consuming. We tried assigning two people to a COVID patient–one would go in, do everything and report to a second person outside the building,but this was taking two people away from the clinic at a time. The solution was to use one of the clinic's emergency rooms, making for better communication and access to supplies."
As the list of potential symptoms for COVID grew, the team was doing even more testing and eventually had to establish two dedicated rooms, setting aside one hour a day only for testing in order to balance all the regular clinic work.
"Our clinic also had to evolve to accommodate social distancing requirements. We can't have anyone waiting inside, so patients come in to our front foyer area where they are screened for COVID, get a number and are assigned a parking spot outside. They have to wait there until a room is available and they are called in."
"We also used to see a lot of patients at night but the community completely locked down at the beginning of the pandemic so nothing came in unless it was a serious emergency. Already living in a very secluded community, the people found this extra isolation was very difficult, so once the lockdown lifted, we saw a real increase in patients, more accidents more stress and mental health issues. It's been especially difficult within this very family-oriented culture, but everyone has banded together and we haven't had one confirmed case."
"I've been here two years and one team leader has been here seven years, and the community gets to know you and trust you. This
is an important element for an isolated community like this in helping to keep them safe. Our team up here is solid and consistent and we are becoming part of the community. It's a great job when you're working with good people and a community that is thankful that you're there."